Existing Features & Protection
We utilised a custom designed Haki roof system to protect existing building features while the roof was removed to carry out rot works. The protection system provided a dry and safe working environment to allow minimum damage to building features and maximise available working time. This proved to be very successful and allowed us to continue work on the roof in all weather conditions. Many of the original internal features were removed and protected while surrounding works were carried out. These items were then reinstated to their original specification.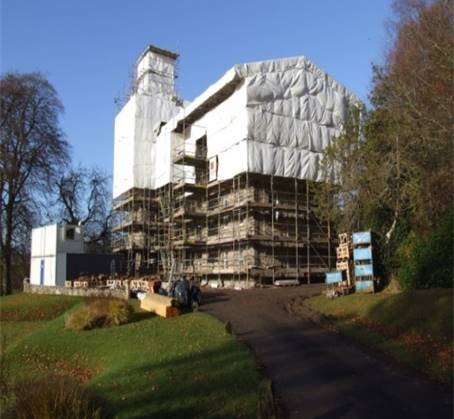 Carpentry & Woodwork
The main walls of the existing building had all the lathe and plaster removed to allow installation of a breathable insulation system. The walls were then given a smooth plaster finish ensuring there was no damage to the existing cornicing. The existing window shutters were removed and replaced with on site fabricated hardwood shutters, designed to match the original style. The ornate ceilings have been repaired to match the existing design. The existing roof includes a large amount of bespoke timbers to match in with the existing building.
Stonework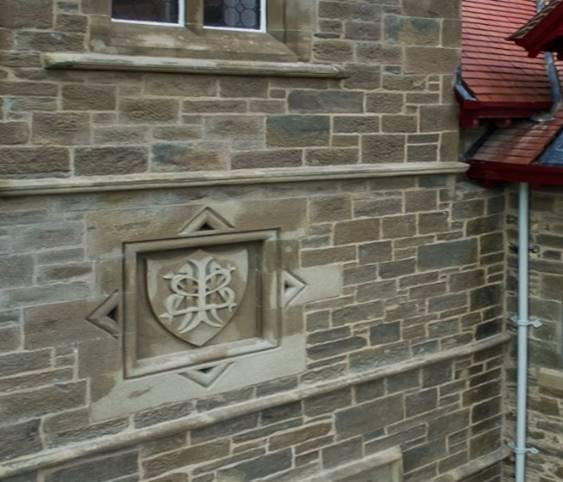 The existing house was built in three stages over a 250 year period with different building styles we therefore had to adjust and accommodate these building adaptions. To bring these periods together, our stone masons carried out full external repairs to the existing building, including full stone replacements, indents and lithomix repairs. Our tradesmen also picked and pointed several internal walls within the building to create feature points. The existing property was enhanced substantially with an extension built in Forest of Dean stone. Our stonemason also formed new structural openings within the existing stone walls, and rebuilt new stone chimneys and a detailed family shield to the main tower.
Mechanical Services
The main heating system for the property is a large biomass boiler, the boiler is linked to traditional column radiators and an extensive underfloor heating network. The water supplies to the building are provided via pumped wells to the rear of the property. The client had a specific requirement for stainless steel supply pipe and various different types of water. This led us to carry out exploratory drilling and we located three different water supply types. The house is now fed with mineral water, salty water and peat water.
Structural Work & Spa Area
We have significantly upgraded the structural integrity of the building from basement level through to the attic, whilst working carefully not to disturb any of the existing features. A significant part of the structural works included forming a new room below the kitchen and incorporating this into the proposed spa area. This included substantial temporary support to the main structure of the building whilst excavating. Both the existing undercroft and new room were waterproofed with a Sika 1 waterproofing system.