We are building a remarkable and unique vertical distillery in Leith. The distinctive building comprises not only the distillery and visitor centre, it will also include offices and dining facilities.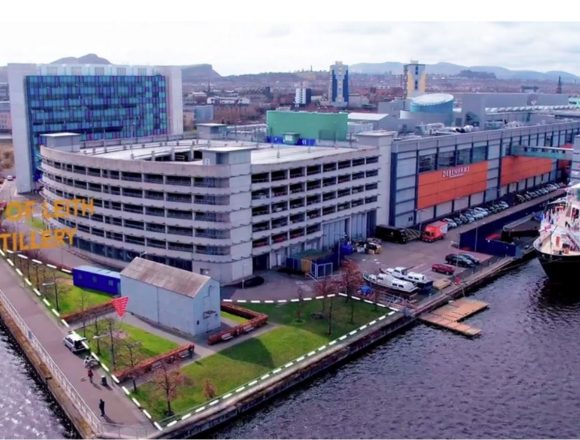 The location of the new distillery is shown in the dotted lines in the image below, close to the Royal Yacht Brittania.
The 9 floors in the structure are utilised as below.
| Floor | Purpose |
| --- | --- |
| Floor 9 | Private Dining and Bar |
| Floor 8 | Bar and Restaurant |
| Floor 7 | Private Dining |
| Floor 6 | Shop |
| Floor 5 | Offices |
| Floor 4 | Tour starting area and mash tun |
| Floor 3 | Top of washbacks, lower half of mash tun |
| Floor 2 | Lower half of washbacks, laboratory |
| Floor 1 | Main view of stills |
| Ground Floor | Main entrance |
Take a look at the innovative design in the short video below (no sound).
The distillery are having their stills hand crafted in Elgin. Check out the short video.
When complete, the distillery will produce 400,000 litres of pure alcohol per year as well as welcoming tens of thousands of visitors through the door with a shop and bar. In addition to this, there is lab space for analysis and experimentation with students from Heriot Watt University, offices and facilities, and a number of flexible spaces that can be used for exhibitions and public events.
At the core of the building will be a vertical production process, with grain milling and mashing at the top, leading down through fermentation to distillation at the bottom. Around that, will be a unique experience for our visitors, allowing them to get as close to the process as possible.
All of this will be encased in a beautiful, bold and modern building sitting on Leith's waterfront – a beacon for cruise ships entering the port and an iconic new structure for Edinburgh.