The Torabhaig distillery project had twin principle objectives set by the client: Provide a brand new distillery, visitors centre and exhibition space into a building of historic significance. And ensuring the detailed restoration of the c.19th century farm steading, retaining the historic features.
Torabhaig started distilling at the turn of the year, with the visitor areas now in the finishing stages including the fit-out of the exhibition space, tasting rooms, reception and café all nearing completion. When completed Torabhaig will be the second distillery to be built on Skye and will be capable of producing up to 600 mLPA.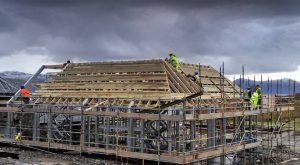 The existing steading was considerably deteriorated, the effects of a long period of neglect; and so the dimensioning and work-scope needed to evolve to ensure the process equipment would fit well both operationally and to enhance the visitors experience.
The internal finish of the distillery was undertaken to embody a feeling of age while in effect the building has been fully restored incorporating a new high-tech distillery with the associated complex services and process requirements, while ensuring the historical features were brought back to life.
The works to the main steading included the complete re-roofing of the project, utilising Scottish slate, all cut and dressed on site prior to the re-roofing exercise.
Ahead of this the walls of the whinstone steading needed some extensive structural work, as the walls were 'pushing out' at the head by some 500mm.
The new roof was constructed to incorporate a removable section over the stills hall to facilitate future maintenance or replacement of the copper stills.
At the west end of the existing steading building, a new mash house has been constructed, to hold the milling equipment, steam boiler and associated plant.
The distillery utilises process water from the Alt Breacach River, while the cooling water is extracted from the Torabhaig River and pumped up to the distillery, with an extensive cooling pond and infrastructure works undertaken.
Challenges:
Skye location, restoration while installing a state of the art distillery into the existing building.
Cooling water system pumped from river to the process incorporating a cooling pond, land formed on site above the distillery.
Treatment of waste products prior to sending to sea by long sea outfall system.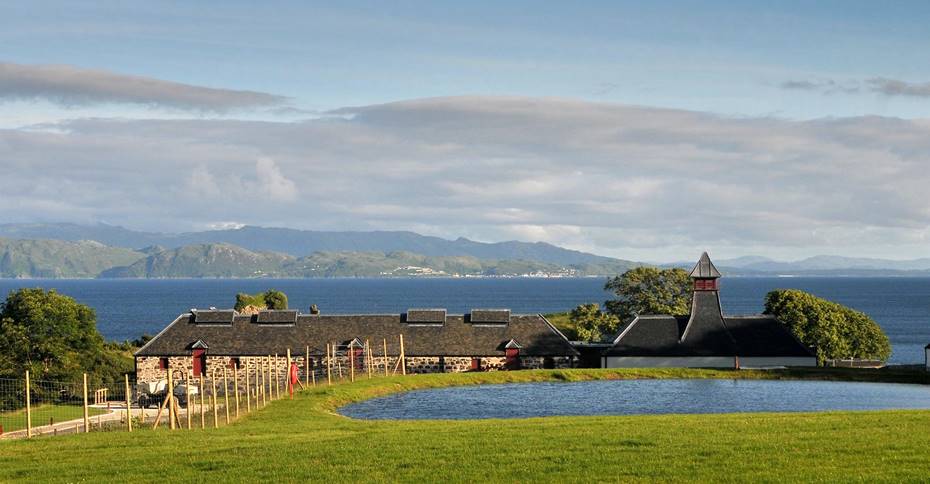 Take a look at this amazing drone video by Willie McPhelim.